Every second Thursday by the latest 12h00pm, we will send an email with announcements and upcoming events, etc. Sign up so you don't miss out!
Alternatively, if you are a Smartphone or Tablet/iPad user, simply use the QR code below to subscribe.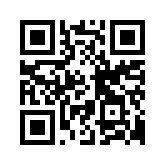 The latest bi-weekly bulletin and archive bulletins after 19 September 2013 are also available for download - click here.
Archive Bulletins (19 July - 19 September 2013) can be accessed here.
If you would like to submit an announcement to be included in the next bulletin, click here. Remember, it must reach us before or by Wednesday noon for the latest. Any questions can be directed to us via email at communication@BellvilleSDA.co.za